A lot can be known about a person by knowing who inspires them...
It is said that one way to know someone is to know those who their friends are. My family and friends help guide me in all of my decisions. Integrity and respect for is one of my driving factors. I try my best to treat everyone with the respect, dignity and try to help them as I would for my family. Every so often I may be wrong with this decision that everyone is good, but I would rather be wrong assuming that everyone is good than believe the opposite.
There is nothing in my life more important than my family. They are the ones who give me great joy and are the reason I am here on earth.
The women in my life have taught me so much. They guide me with the important decisions in life and answer the simple questions that I should know.



My Friends and Santa (me)
The best man at my wedding
I have had the greatest opportunity to play Santa at work. We take time away from work to get together and be thankful for what we have. We take pictures so that other family members can see their loved ones with the traditional Santa. Santa's job is to make sure that everyone feels appreciated and valued. To give a hug if requested and to make sure that it is a good day for all. (P.S. the white hair and beard is spray on.)
Dr. H. LeRoy Nyquest was my mentor for so many things in life. He was as intelligent as he was kind. His words of wisdom cross my mind all the time and I try to live up to his belief in me. He would always make sure I understood what and why I was doing what I was doing and always referred to one of his mentors that he worked for, Donald James Cram (1987 Nobel Prize in Chemistry). My friend passed away in 2014.
There are two ways to live: you can live as if nothing is a miracle; you can live as if everything is a miracle.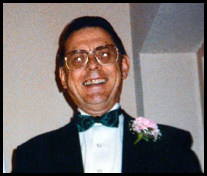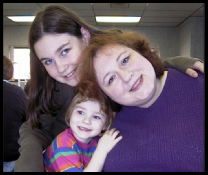 …I wanted to say that I very much enjoyed your class. I had avoided taking Chemistry for a long time because math intimidates me and I unfortunately always had really fast paced professors who would rush through lecture so I always felt one step behind. I loved how much input and feedback you sought from your students and how you always made sure we were all on the same page, answering all questions with patience and not once sounding condescending. This has turned out to be one of the most enjoyable classes in my entire college career! Thank you for everything!
Hey it's @@@@@, bothering like always. I just wanted to wish you and your family happy holidays. (no I'm not trying to kiss ass, I really mean it). I'm really happy that you were my professor and I hope that in the future you can be my professor again, maybe for Chemistry 102 and/or 211. You must protest and tell them you want to teach chemistry, just joking, but if that's possible more power to you. Have a happy Christmas and New Year.
Thanks for your prompt reply Prof.! … I thought you hated me :-) Now I'm happy you say so. As I said you are the best and it was the first time I got a pizza from my professor in US. Also, you are SO NICE AND KIND to help us for the tests. I'm sure everyone would be very much appreciate that.
Thanks for everything!
I just wanted to send you a quick email on behalf of my granddaughter who just finished the sixth grade and is enrolled in a summer enrichment STEM program that starts in a few weeks. She has insisted on doing research on her own, so my one requirement is she can only go on safe and kid friendly websites if she wants to research on her own and of course I am over her shoulder most of the time. Last night, she came across your page http://themalloryfamily.org/physics/physical_science.html . I just wanted to personally t hank you for making it. You have some great resources and information that really taught her a lot about physics and simple machines.
Hello! Professor, I just want to thank you for being such a extra good professor, and also thank you for the pizza , I never had such a nice person, God bless you!!!
Thank you so much for making chemistry an interesting class and for all you did. …. all my studying paid off at the end. I had to take a day off from work to study because it's not easy to really study with three kids running around me. Thank you once again it was a real pleasure having you as my professor.
I am writing to you in regards to your Chem 51 Lab/Lecture class … The class has a waiting list and I was wondering if there is any way you can give me a pass to attend the class. I am already enrolled in a Chem class at Valley College but have heard so many great things about your class and I would really, deeply appreciate the add if possible.
…Professor Mallory thank you. I really do appreciate your efforts. Rarely do I encounter such a dedicated educator as yourself. Enjoy the summer and take it easy.
I just noticed that you updated Chapter 01 - Lecture Notes (Chemistry 51) on the web. I want to say thanks for updating. It's help me so much.
I wanted to say thank you for the progress reports helps a lot to keep on top of our grades. Thank you for the extra work.
Hi professor, thanks for this semester it has been an honor to be your student and learn from you. Best regards…
Hey Prof. Thanks a lot!!.....I recommended your class to a friend from work...her name @@@@...HAVE FUN!...haha I told her she would enjoy your class so make me look good during spring ok!
Thank you so much for believing in me, your words mean a lot. They bring my hopes up
Thank you very much for this semester, you made Chemistry easy, fun, and understandable!
Thanks for understanding and helping me through my depression. You are honestly the best and I glad you were my teacher.
I wanted to thank you for your patience and for all your support. It was a great class, I will always remember you.
I love the fact that you're always so helpful and responsive.
Good Morning Professor, Thank you for going above and beyond for all those students that want it to add. See you tonight
…again thank you for all, this last semester did make a big impression on my life and my future and for that I am grateful…
Professor Mallory, I enjoyed your class. On the first day and for many weeks, I was positive that I was in over my head. But you are a very entertaining instructor. You handled the class well and developed good rapport with many of the students. That's hard to do. I've been in some classes where the professor displayed annoyance with student behavior. I enjoyed the challenge and learned. I know about the universe and share the experience with others.
Professor Mallory, I took your physical science Monday evening class Spring 2010 semester. I really enjoyed the class and you as my Professor. You sure new how to break the ice between students and teachers. Having you as a Professor during my first semester of college changed my views about many things.
Thank you Professor Mallory I appreciate you taking the time to do that. I had a great learning experience in your classroom and you are by far one of the most talented and funny teacher's at Mission College. Have a great summer!
I truly appreciate your comments, your time, and your effort. I totally enjoyed your classes and your teaching style.
I would like to take this time out to say thank you the information you posted yesterday helped me a lot. Thank you again and sorry for making you take some of your precious time to do that for me i appreciate it thank you !!!!!!!!!!!!!!!!!!!
Thanks Professor. …there was a good reason, my son was extremely sick…. I enjoy going to your class, I have never missed a day. See you tomorrow,
Professor Mallory, just wanted to thank you for a good semester. I really liked your teaching style of doing anything to keep us awake. I wanted to apologize for coming in late the last couple of weeks and interrupting your class. I work in the customer service industry and during the holidays its gets real hectic. i probably wont do as good on the final neither as I didn't get enough time to study because of work and my girl cheating on my, but thank you very much for making chemistry as fun as it could be. I will be sure to tell my little brother to take you next year…
Good Morning Professor Mallory, Thank you for the support. It means a lot to be able to have shared my goals with you. These are the little reminders that keep me going and am grateful to have taken this course; definitely got more than chemistry out of it. Confidence is something you definitely have and always remind us that we're "human and make mistakes." So thank you for these gentle reminders. Have a great summer!
Thank you so much Professor for taking the time and understanding I am home now just resting and eating. Hopefully I will see you next week. Thanks.
Thank You!!!! I really enjoyed your class and your a great teacher Thank You once more. Oh Yeah... Yeah got an "A" . Keep teaching!!! Have a nice summer.
Once again, thank you for a great semester. Starting this course feeling like things were going 1000 miles/min and basically learning a new language with chemistry was challenging but extremely applicable to our everyday life. You really put students first and did with every exam for me. In addition to all the real conversations we had regarding graduate school and taking care of myself to be able to help others. I will continue to put my health as a priority in order for me to be of service to others
Thank you! And thank you so much for everything you did a wonderful job!
Thanks a bunch, it really is a great class. I really enjoy what science is, the discovery of the world around us. Every class I learn a lot of things that open my awareness and get me excited about learning more. I always want to ask a bunch of questions, and I really appreciate you taking the time to answer them for me even if they don't apply to the lesson at hand. It is really fascinating to me the way that every thing works! I want to take more classes in the subjects we have touched on to get a better understanding of what's going on out there in this amazing world we live in. I have a book called "the handy physics answer book" that covers all kinds of interesting facts about physics. I was reading that book when I saw that I could take this class and decided it would be a lot of fun. You did not disappoint! You put a lot into making it interesting and fun, and I really appreciate all the work you put into helping us learn. There are many teachers who do not even attempt to be interesting, but every time your energy brings an almost comatose class of students to life at least enough to impart knowledge to them. And for the ones like me, who are interested in the material in the first place, your energy makes it a fun and enjoyable night every time! Thanks again for a great class, see you Monday.
Please and thank you... by the way not to try to suck up or anything because this is truth... your class was by far the most interesting one I had this semester... I'll definitely remember it, that's for sure...
Good morning, Prof. Mallory. I wish all instructors are as personable as you. Thank you so much for your patience! …Thanks again for the perspective.
Hello Professor, I am taking two of your classes...Phy Sci 01 & Phy Sci 14 lab. I am a returning student after many years... and a bit nervous taking this big step in my life after my divorce and raising my kids. …I want to thank you for making me feel at ease in your classes and for being approachable. Secondly, I want to give each class my all... but I am very rusty and not the greatest with math. Last Thursday in the evening Phy Sci 01 class you mentioned that if anyone wanted to come in to the class before ours for further review we could. …I would like to take advantage of your kind offer…
Thank you for being such an awesome professor!
Prof. Mallory, Thank you for your time and patience with the issues I have had to deal with this quarter. …Happy Holidays and Best Wishes in this New Year!!
Thank you Professor Mallory I really appreciate the progress reports as I am very much a worry wart and these help a lot. Thank You.
Thank you very much. I will truly miss your class and thank you for being a great professor. :)
I believe life is a miracle because of the people in the world and especially these below !